Hello everyone!
As some of you might know I had my second concert experience this week, meaning that an orchestra performed a good chunk of my compositions, and I would very much like to write a little bit about it since it has been one hell of emotional rollercoaster for me.
Several things happened that I hadn't experienced yet and I honestly thought that wouldn't happen even in the next 5-10 years maybe. These small occurrences somehow changed a lot in how I perceive my work as a composer but also taught me a lot as a human being.
Before I talk about my personal experiences I want to thank the Philharmonie Baden-Baden and Judith Kubitz for their performance and their continued work with me, I'm feeling blessed to be part of a project of that scope. I can't thank every musician personally but I want to at least thank them here because they are a huge part of what made this so emotional for me.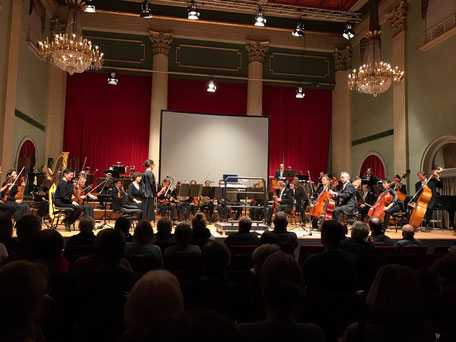 On Tuesday I was on my way to the venue where the concert would be held. I helped setting up the stage and after we were finished I went backstage to drink something. So I'm doing that, walking up the stairs to the musician rooms and hear a flute playing. In 90% of these cases I just ignore musicians assuming that they are practicing for an upcoming solo performance. While I'm there looking for something to drink I noticed that what is currently played on flute seemed fairly familiar. In fact, it wasn't just familiar to me it was literally my own music that was played and practiced. The feeling I had was really weird, it wasn't joy or excitement nor was I sentimental or melancholic, but it was extremely important from a psychological point of view. Some of you reading this might not be familiar with the world of sample music, but samples (literally virtual instruments) do exactly what you want them to do and this usually without any mistakes. And this perfection probably translated into me thinking that musicians wouldn't encounter many problems playing my music. But this tiny little experience, no matter of how mundane it actually has been, changed a lot in how I perceive my music and how I will approach future works of mine.
The next experience I had was right after the concert was over. I was waiting backstage for the musicians to leave the stage so I could go back into the hall and talk to my friends and family. As I was coming from the backstage area onto the stage I already saw some people waiting in front of the stage and I thought they just wanted to talk for a moment. They did want to talk but they also wanted autographs and that was surreal for me. I never assumed that someone would come right after the concert and actually ask for autographs and pictures. I just went with it and signed everything and made photos with them.
Again, thanks to everyone involved and thanks to everyone who came over to watch the concert, it was a pleasure having you there!
Cheers
---