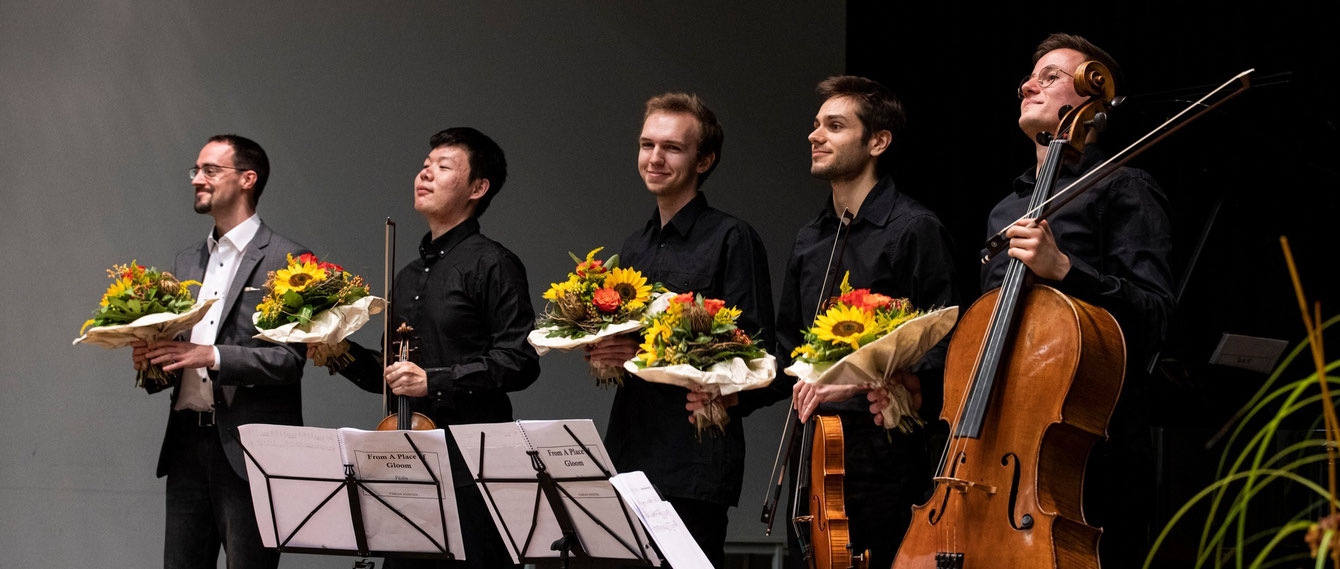 The two premieres of my recently composed Piano quartets "Is It 5?" and "From a Place of Gloom" were a success!
Before I get into the details and the circumstances of the concert, let me use this opportunity to thank the parties involved in making these premieres happen in the first place:
Thank you, Jie Wang, Leon Sundermeyer, Miguel Jiménez, and Hans Schröck for embracing the challenge and performing the two works on stage!
Thanks goes out to Saule Tatubaeva who has been supporting me for the last months and making this concert a possibility!
Thanks to the Förderverein für Kunst, Medien und Wissenschaft e.V. and their members for supporting both artists and science and also offering them a platform to demonstrate their chosen skills. I'm very humbled by the given, and ongoing, support.
This particular premiere was a little bit different compared to what the usual pre-premiere procedure is – means I'm physically at the rehearsals and can take part in them. In all my previous premieres I had the chance (or maybe the luxury?) of being able to visit the rehearsals in person. Due to time constraints, this was sadly not feasible and we had to improvise and made a recording during one of the rehearsals and see where we can go from there. In retrospect, it was a pretty exciting experiment since it meant that my music and notation alone has to communicate what the character of the pieces will be. It's a rather educational experience since you get a good glimpse at what your score communicates with the performers and also what not. Looking at the final performance I'm happy to say that it sounded pretty much the way I envisioned it during the creative process.
Since most of my recent work was focused on the symphonic orchestra, having a premiere of a small ensemble was a breath of fresh air. I was somewhat nervous because I hadn't worked with this specific ensemble before and didn't know what I was getting myself into, but it worked quite well. The quartet played the pieces very passionately considering the fact that they are quite tricky to get into because they aren't really "classical" in a traditional sense - more so on the jazzy side, I would argue. I wish Leon, Jie, Miguel, and Hans all the best for their future endeavors and hopefully, our paths will meet again and some shape or form.
The concert was also the first time that members of the Förderverein had a chance to listen to my work and I'm quite happy that they enjoyed it. Many people came to me past the premiere and we had good talks about music and many more things. Thank you to everyone who showed up!
---